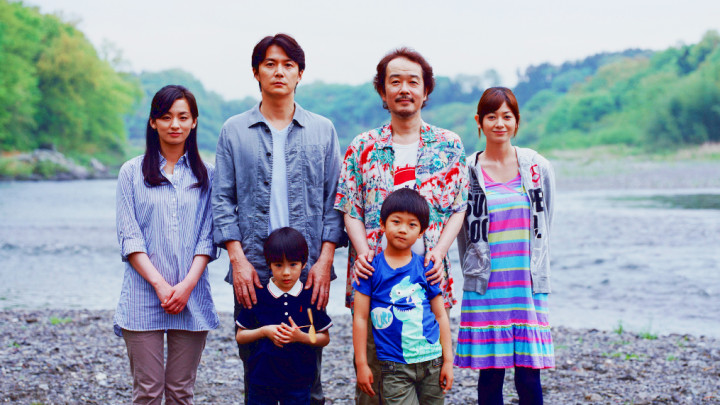 Soshite Chichi Ni Naru / Like Father, Like Son
Audience Award San Sebastián Film Festival, Spain
Saturday - 09/06/2014
8:30 PM - Freiluftkino

Fiction / Soshite Chichi Ni Naru / Japan / 2013 / Language: Japanese / Subtitles: German / 121 Min.
Director: Hirokazu Kore-eda
Writer: Hirokazu Kore-eda
Producer: Kaoru Matsuzaki, Hijiri Taguchi
Executive Producer: Chihiro Kameyama, Tatsuro Hatanaka, Tom Yoda, Yasushi Ogawa, Chiaki Harada, Satomi Odake
Cinematographer: Mikiya Takimoto
Editor: Hirokazu Kore-Eda
Sound: Tsurumaki Yutaka
Production Design: Mitsumatsu Keiko
Cast: Masaharu Fukuyama, Machiko Ono, Lily Franky, Yoko Maki
During the selection procedure for an elitist primary school, little Keita has to undergo a blood test, which shows that Ryota and Midori are not his biological parents. Two babies have been switched at birth. "Well, that explains it" father Ryota bursts out. He sets high values on good education, piano lessons and stern discipline and has been irritated by the lack of similarities between Keita and himself for a long time.
The hospital arranges a meeting of the two families involved, but neither knows how to deal with the new situation. Can you live with the knowledge that your own child is growing up in a different family? Or can you just exchange the assumed son for the biological one?
Hirokazu Kore-eda tells a haunting story of different lifestyles, parental care and the willpower of kids while at the same time providing extraordinary insights in Japan's modern society. LIKE FATHER, LIKE SON has been awarded the Grand Jury Prize at Cannes International Film Festival 2013.
In case of rain the film will be screened in Filmrauschpalast.
Trailer