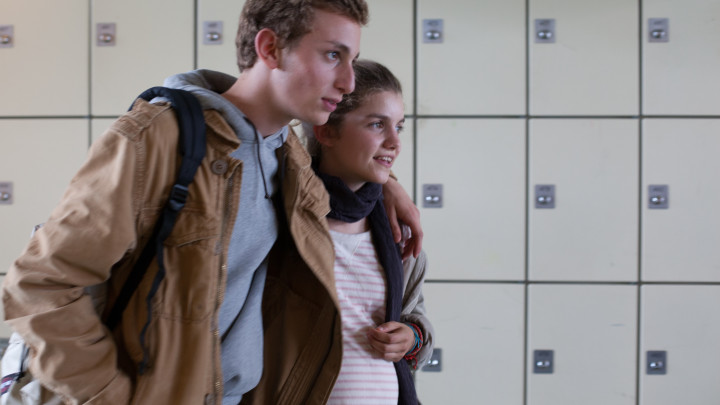 KEEPER
Publikumspreis Festival du Film Français d'Helvétie, Schweiz
Saturday - 09/10/2016
7:00 PM - City Kino Wedding


Followed by a Q&A with the director
Fiction / KEEPER / Belgien, Schweiz, Frankreich / 2015 / Language: Französisch / Subtitles: Deutsch / 95 Min.
Director: Guillaume Senez
Writer: Guillaume Senez, David Lambert
Producer: Anne-Laurie Guegan, Isabelle Truc, Bart Van Langendonck, Fabrice Preel-Cleach
Cinematographer: Denis Jutzeler
Editor: Julie Brenta
Sound: Eric Ghersinu
Production Design: Florin Dima
Costume Design: Francoise Nicolet
Cast: Kacey Mottet Klein, Galatea Bellugi, Catherine Salee, Sam Louwyck, Laetitia Dosch, Aaron Duquaine, Leopold Buschbaum, Cedric Vieira, Vincent Sornaga
Maxime and Mélanie are 15 and in love. One day Mél announces that she is pregnant. At first Maxime is completely shaken by the news. As a young goalkeeper, he is just a few steps away from being accepted at a professional training programme – the career of his dreams. But after a few days and a conversation with his best friend Maxime is decided: He loves Mél and is ready to have the baby. But does Mél want that after all? And what will the parents say?
In an equally cautious and empathetic way Keeper accompanies the challenging journey of his young protagonists, featuring outstanding performances by promising young actors Kacey Mottet Klein and Galatea Bellugi. An imposing directorial debut and an emotional rollercoaster ride that gets under your skin.
Additional screening for school classes on Thursday, September 8th at 1.00 am.
Trailer