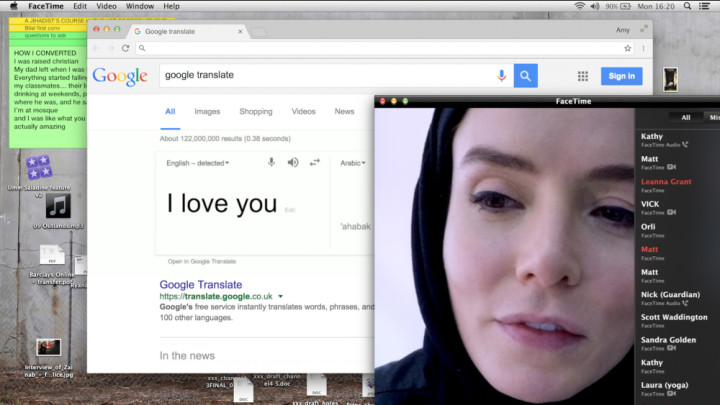 Profile
Panorama Audience Award, Berlinale, Germany
Friday - 09/21/2018
9:00 PM - City Kino Wedding

Fiction / Profile / USA, United Kingdom, Cyprus, Russian Federation / 2018 / Language: English / 105 Min.
Director: Timur Bekmambetov
Writer: Brittany Poulton, Timur Bekmambetov, Olga Kharina, nach dem Buch "Dans la peau d'une djihadiste" von Anna Erelle
Producer: Timur Bekmambetov, Olga Kharina
Editor: Andrey Shugaev
Sound: Nigel Albermaniche
Production Design: Ben Smith
Costume Design: Varya Avdyushko
Cast: Valene Kane, Shazad Latif, Christine Adams, Amir Rahimzadeh, Morgan Watkins
Journalist Amy wants to boost her career with an explosive investigative story. To achieve that, she creates a Facebook profile under a false name and approaches online the IS fighter Bilel in Syria, who is said to be responsible for recruiting young European women.
Through many chats and Skype calls a relationship between the two develops relatively quickly. Bilel is charming, shows her his everyday life at the IS, cooks with her, compliments her, and after a short time asks her to come to Syria to become his wife. Amy tries her best to juggle with the different windows on her computer screen, yet ultimately gets entangled between her real world in London and her world of lies with Bilel, who manages to get the struggling journalist more and more under his spell.
Profile is set exclusively on Amy's computer screen, between Skype, Facebook and browser windows. Through the familiarity of these images the story gains a great immediacy, which takes the viewer on an intense and gripping journey.
Trailer