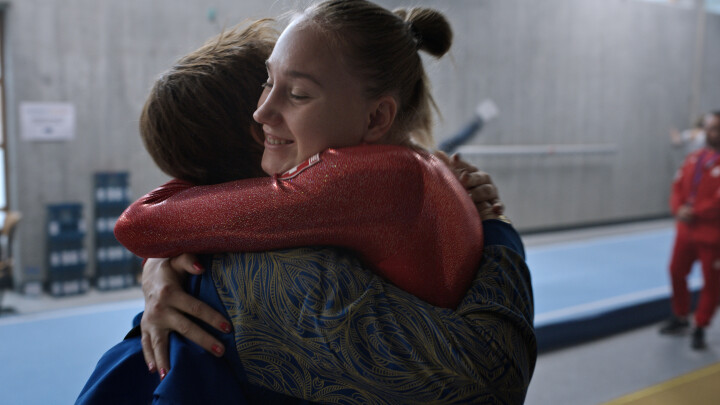 Winner 11. Berlin's Favourite Award: OLGA
11. Berlin's Favourite Award
Sunday - 09/25/2022
5:00 PM - City Kino Wedding


from 4:30 pm - Sekt and cake
During the festival the audience has been asked to evaluate the films of the main programme on ballots. The winning film will be screened again on Sunday, September 25th, at 5.00 pm.

Winner 11. Berlin's Favourite Award: OLGA
Fiction / Switzerland / 2021 / Language: French, Ukrainian, Russian / Subtitles: English / 87 Min.
Director: Elie Grappe (,who will be present for the screening)
Writer: Elie Grappe, Raphaëlle Valbrune
Producer: Jean-Marc Fröhle, Tom Dercourt
Cinematographer: Lucie Baudinaud
Editor: Suzana Pedro
Sound: Jürg Lempen, François Musy, Simon Apostolou
Music: Pierre Desprats
Production Design: Ivan Niclass, Pascal Baillods
Costume Design: Isabelle Boucharlat
Cast: Anastasia Budiashkina, Caterina Barloggio, Jérôme Martin, Théa Brogli
In 2013, young Ukrainian gymnast Olga moves to Switzerland to participate in a training camp for the the European Championships. Olga is very talented and ambitious, strong-willed and somewhat rebellious. While her days are marked by hard training and tests for Swiss citizenship, protests erupt on the Maidan in her home country. Olga follows them on her cell phone and in exchange with her friends and her mother, who is a journalist on the frontlines of the protests.
The multi-award-winning feature film debut of the now 28-year-old Elie Grappe not only offers an insight into the tough everyday training life of a teenager, but also allows to follow the developments in Ukraine in 2013/2014 through Olga's eyes which were followed by Russia's war against Ukraine.
Trailer